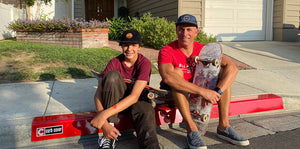 Curb Cover was birthed during quarantine in Orange County, CA, when father-son founders, Matt and Luke, were making DIY skate elements to skate out front of the house with neighbors and friends. They realized while they had made and purchased multiple skate elements for the street, there was no skate element they could find for curb - the first place their friends would learn and perfect street tricks … and the one place that was getting most destroyed by hours of quarantine skating.
Matt told Luke about the 'copers' he had to cover his trucks and get a smoother grind when he was Luke's age. In that moment they had the thought - "if you can cover trucks, why can't you cover curbs - and why hasn't anyone tried?"
Those thoughts sparked the first, simple prototype. After seeing how much fun their friends were having skating their Covers, Matt and Luke decided to begin more R&D and production in late 2021.
After perfecting their solid and sectional Covers, skating them on residential and commercial curbs all over Orange County, and getting supportive feedback from industry insiders like Keen Ramps,The Berrics, Braille Skateboarding and more, Matt and Luke decided to go to market with their ground-breaking Curb Covers.
Matt and Luke couldn't be more excited to make this contribution to skating!